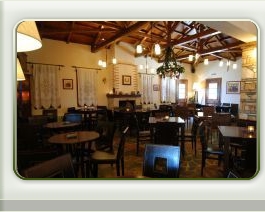 ---
Welcome to Cafe - Bar - Restaurant Panselinos
Cafe - Bar - Restaurant Panselinos is located at the beginning of the Old Village thorp offering an uninterrupted view of the ocean as well as the spectacular surroundings of the Old Village. Our facilities, which became functional in July of 2003, have become well known and popular thanks to our warm atmosphere, our delicious Greek dishes and friendly service.
Panselinos was built using rock and bricks with respect to the local architecture .The exterior of our facilities include two large terraces where you can relax and enjoy the beautiful view of the sea under a bright blue sky. The interior is composed of a spacious lounge equipped with a fireplace, a stone-built bar and a traditional wooden roof. On the second floor another smaller lounge is available for table games, backgammon and chess for your entertainment.
Panselinos open early in the morning offering breakfast, a variety of coffees, sweets, snacks and milkshakes. After midday our kitchen becomes available and you can indulge into many of our specialties and traditional Greek recipes. Our restaurant stays open throughout the day and you can enjoy your lunch or dinner listening to our relaxing musical selections. Later at night our bar offers exquisite cocktails and drinks which you can enjoy either inside or outside in the small park located across our facilities.
Our restaurant is open throughout the year
Price range (indicative): 10 - 15 € per person including wine.
Manager : Mpellos George